2018-2019 Grant Applications Now Available!
2018-2019 Innovative Ed-Venture Grant Application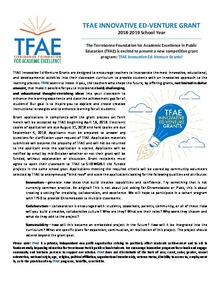 PDF
2018-2019 New Teacher Grant Application
PDF
Do you remember as a child how excited you were to get your school supplies?  There is just nothing better than a new box of crayons and a brand new notebook.  TFAE wants to give you that same excitement.  We recognize that there is a lot of "stuff" necessary to get a classroom ready for students.  We have created this grant program to help stock your classroom.  Teachers who meet the criteria can submit one grant application for up to $500.
 
2018-2019 Bayou Board of REALTORS® Journey to Careers Grant
PDF
$1 MILLION DOLLARS DOWN...
SO MUCH MORE TO GO!!  TOGETHER, WE ARE MAKING A DIFFERENCE IN TERREBONNE PARISH.
Thank you for all you do for the teachers of Terrebonne Parish! I am so thankful to be one of your recipients. We can't wait to get our project rolling!