WHAT IS PURSES AND PROMISES?
Purses and Promises is a fundraiser for the Dolly Parton's Imagination Library in Terrebonne Parish. Through this program, registered children receive an age-appropriate book every month until their fifth birthday at NO COST to their families.

These books increase a child's learning capacity, promote literacy and social skills, and most importantly - prepares them for Kindergarten. 
EVENT DETAILS
Friday, November 1
Courtyard Marriott (142 Library Drive in Houma)
Doors open at 5:00 p.m. | Live Auction at 6:15 p.m.
Tickets are $55/person
Includes heavy appetizers, wine, and sponsorship of a
Terrebonne Parish child in the Dolly Parton's Imagination Library.
PLUS:
Name Brand Gently Used Purses for Sale
Silent Auction of Gently Used Designer Purses
Live Auction of New Designer Purses
Cash Bar, Raffles, Door Prizes, & More Fun!
WHY YOUR SUPPORT MATTERS
Because 85% of brain development occurs in the first three years of life, it is important to expose children to rich, engaging vocabulary to set the foundation for cognitive ability, literacy, and school readiness.

Research has shown that children who enter Kindergarten "prepared" and ready to learn will be less likely to be held back in school, drop out, require special educational services, develop chronic health problems or enter the criminal justice system.

We currently have more than 3,300 LOCAL children enrolled in the program and receiving books every month! While free to families, this is at a cost of $25 per child, per year to TFAE. Your support will help us fund this important project for our community!
TICKETS NOW ON SALE!
Purchase online with your paypal account below or
contact Katie at 985.868.5881 or katie@tfae.org
Want to donate an item to our event?
PDF
We're looking for the following items to sell and auction at our Purses & Promises event!

From Individuals:
Gently used DESIGNER purses, clutches, handbags, etc.
Gently used TRENDY/FASHIONABLE purses, clutches, handbags, etc.
From businesses:
Goods/services from your company
Gift cards (restaurants, spas, shopping)
High-end women's accessories
Themed gift baskets
Tickets to events, concerts, etc.
Cash donations are great too! we can use it to make baskets or purchase items in the name of your company. (Looking for a bigger sponsorship? See below). 
Join us as a Sponsor!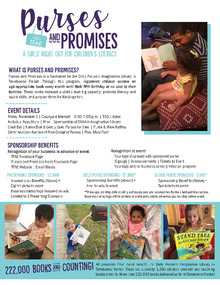 PDF
We're looking for community-minded businesses to help us with our event! Your sponsorship dollars will help us fund the Dolly Parton's Imagination Library in Terrebonne Parish!

Sponsorships start at just $500. We offer MANY perks for our sponsors before and during the event. Click the icon to the left to learn more about our sponsorship benefits!
Thank you to our generous event sponsors!
Presenting Sponsor
Gold Purse Sponsor
Gold Purse Sponsor
Gold Purse Sponsor
Silver Purse Sponsor
Silver Purse Sponsor
Silver Purse Sponsor
Silver Purse Sponsor